This is completely my perspective and I, in no way, seek to harm people with my perspective so please bear with me. These are the books I feel that everybody should read at least once in their lives.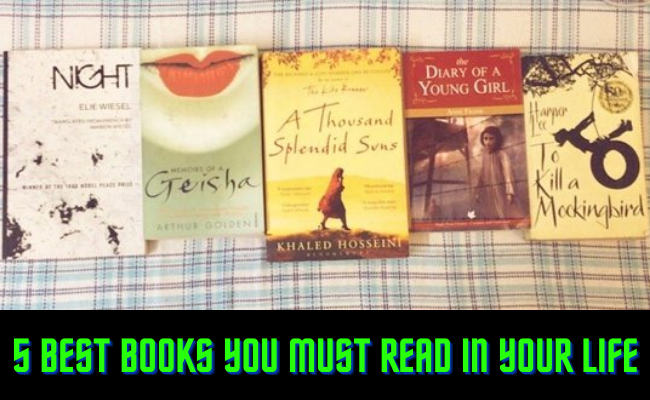 So let us begin with, Five best books you must read.
To Kill a Mockingbird by Harper Lee- I read it in 9th grade for a Language assignment. The 3 hasty days I spent reading this book made me just fall head over heels in love with it. Atticus Finch is one of my favourite characters to have ever existed in paper. It's a soul stirring story about courage and truth and I don't think that anybody can dislike it.
Diary of a Young Girl by Anne Frank- The first time I attempted to read this book was in 7th standard and I absolutely hated it. Then, recently, I read it again and I just felt awakened in a way perhaps. This iconic novel will just make you appreciate life and everything you have amidst this urban chaos.if you want to read this book go here.
A Thousand Splendid Suns by Khaled Hosseini- You know, I can guarantee that this book will make you drown in your own tears. It's literally going to shake you from within with emotions you probably never felt. It's a story about 2 women in Taliban Occupied Afghanistan. It was the first novel I read by Khaled Hosseini and I know that I do not regret it. I found it better than The Kite Runner, by the way.
Night by Elie Wiesel- It's compact and precise. The purpose of the book is achieved in merely 100 odd pages. It's a story about the writer and his father in Auschwitz Concentration Camp at the peak of the Holocaust. It's horrific and rather depressing in a way but I can bet you one thing, after reading it, the next time you get access to a warm meal, you'd be thanking whatever Godly power that exists for it.
Memoirs of a Geisha by Arthur Golden – I was in 2 minds about adding this or not. My friend hated it and termed it as 'boring' while I, on the other hand, absolutely loved it. It's a story about a Geisha in her peak and her struggles and the impact of the Second World War in Japan. I can tell you one thing, it made me fall in love with Japan.
I haven't read One Hundred Years of Solitude by Gabriel Garcia Marquez and I didn't particularly enjoy the Great Gatsby. Currently, I am reading All the Light We Cannot See by Anthony Doerr. I made a brave attempt to read the Fountainhead once but I obviously failed miserably. One day, I might try again.
Books come in all shapes, colors, and sizes. Some are thick and some are thin. But, all of them have one thing to offer you, sweet sweet memories! (I just felt like saying it after seeing my diverse books)